Public Webinar: The EU Data Strategy and the Draft Data Governance Act
19/05/2021 16:00 — 17:30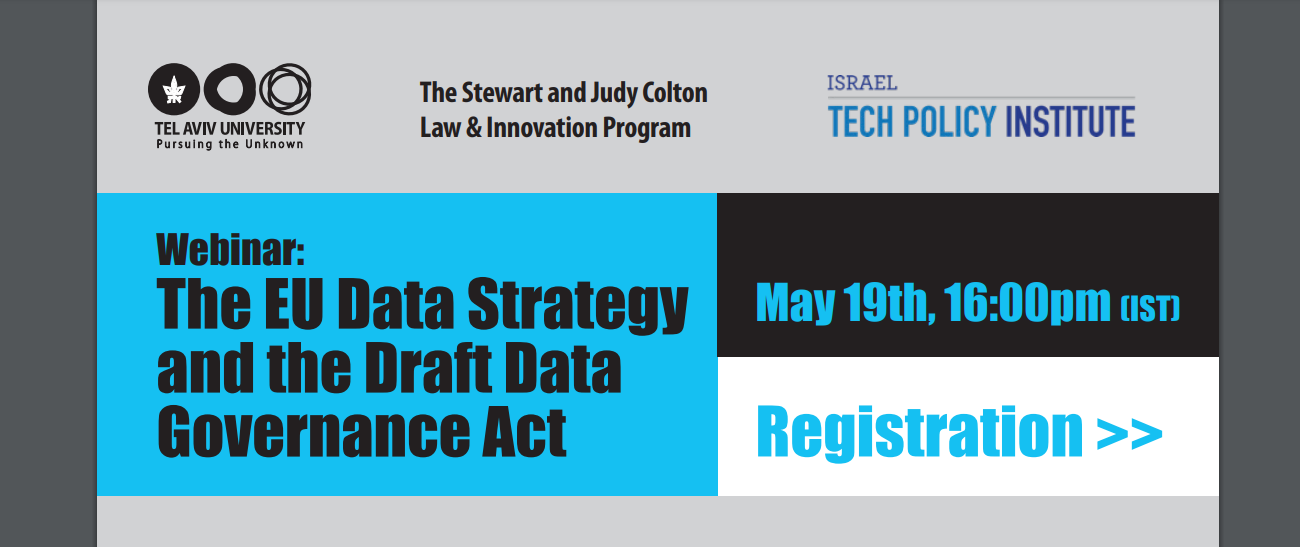 Israel Tech Policy Institute & Tel Aviv University, The Stewart & Judy Colton Law and Innovation Program invite you to participate in our latest online webinar, The EU Data Strategy and the Draft Data Governance Act.
The draft Data Governance Act is one of the proposed measures for implementing the EC's 2020 European Strategy for Data, which aims at giving the EU a competitive advantage by enabling it to capitalize on its vast quantity of data. The Data Governance Act will establish a framework for providing access to government data, regulating data intermediaries that provide data sharing services, and data altruism.
The Webinar will discuss the European Union's Strategy for Data and the draft Data Governance Act.
Moderators:
Prof. Assaf Hamdani, Law Faculty, Tel Aviv University
Limor Shmerling Magazanik, Managing Director, Israel Tech Policy Institute
16:00-16:10 Opening Remarks
16:10-16:25 The EU vision for the Data Governance Act
Malte Beyer-Katzenberger, policy developer and team leader data policy & innovation, European Commission, DG CONNECT
16.25-16.40 Setting the Stage: EU Data – Recent policy initiatives
Ms. Henriette Tielemans, Senior Counsel, Covington & Burling LLP
16:40-17:10 Discussants:
Dr. Thomas Hardjono, MIT Connection Science & Engineering
Helena Koning, Assistant General Counsel, Global Privacy Compliance Assurance & Europe Data Protection Officer, Mastercard
Rachel Ran, Data Policy Manager, Government ICT Authority
17:10-17:30 Open Discussion
Attendance is FREE but registration here is required. For any further details and questions, please don't hesitate to contact us at [email protected]